Quality makes things mobile
Grinding tools for road and rail vehicles
Grinding productivity in vehicle construction is essentially a question of using the right tool. The right combination of grinding wheels, cutting materials and bonding agents will allow you to achieve great results quickly. We provide grinding tools for working on vehicle bodies, engines, axles and rims.
In cars, high-grade surfaces are one of the most crucial factors for achieving reliable functionality and a top-quality appearance. With our grinding and polishing tools, you have the right solution for mastering any surface finishing challenge.
Typical tools for polishing and grinding work in vehicle construction include:
SiC-Alu mounted points
MFS mini flap wheel
polishing tools
diamond mounted points
Grinding and polishing tools for all vehicle parts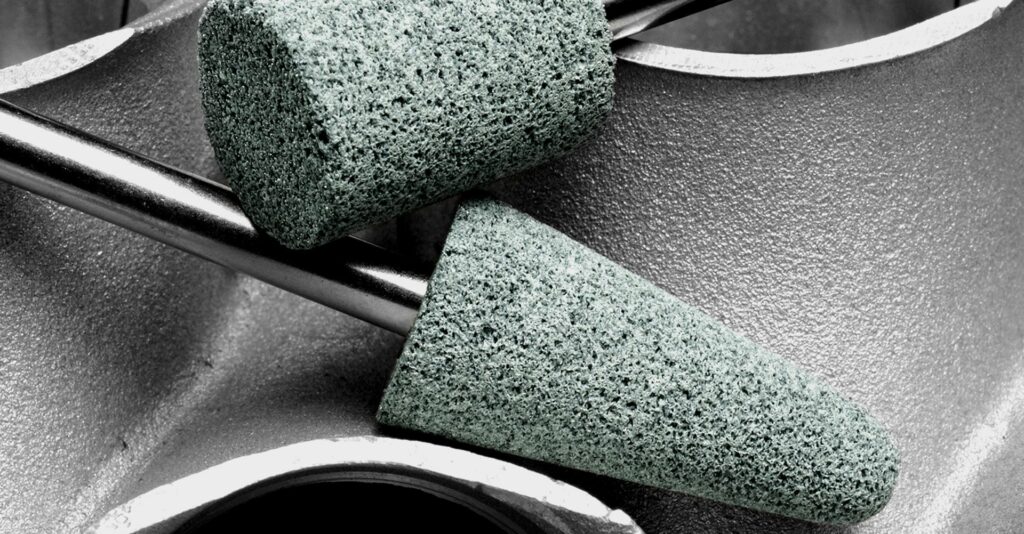 SiC-Alu mounted points are especially suitable for smoothening and deburring aluminium parts and other non-ferrous metals. This is because the microstructure of the points prevents their pores from becoming clogged with aluminium ("lubricating effect"). The special impregnation of the mounted points enhances this effect. This enables long uninterrupted working even with comparatively soft light metals.
MFS mini flap wheels are particularly suitable for deburring boreholes because they reliably remove the burrs without damaging the bore thread. Their flaps grind off protruding burrs in boreholes without affecting the drill thread, so that the final finishing takes just a few seconds.
Polishing sealing surfaces ensures the long-lasting effectiveness of seals. With our polishing tools, you can achieve the required surface characteristics. We have a complete range of polishing tools for achieving every desired surface quality, from fine grinding through to a mirror finish. Such tools are available as polishing points, polishing sticks and polishing discs.

Grinding valve seats requires hard cutting materials for the machining work. Our grinding tools made with diamond and cubic boron nitride (CBN) are perfect for this challenging job. These ultra-abrasive ceramic matrix abrasives achieve the best results in the precision machining of engines and injection systems. Due to the low tool wear and the dense coating of abrasive grains, they have a long service life.