Everything up to date
Innovations for grinding and milling tools
Thanks to their constant ongoing development, LUKAS tools are always state of the art. If that is not enough, we will develop something new with you.
Over 80 years of LUKAS ERZETT: This means over eight decades of permanent evolution. We constantly monitor the demands of the various markets and develop precisely the tools that are needed based on our observations. To do this, we use all the technical possibilities for abrasive grains, matrices, backing materials and tool bodies. We transform new cutting materials, such as self-sharpening ceramics or improved carbide grades, into innovative tools for our customers.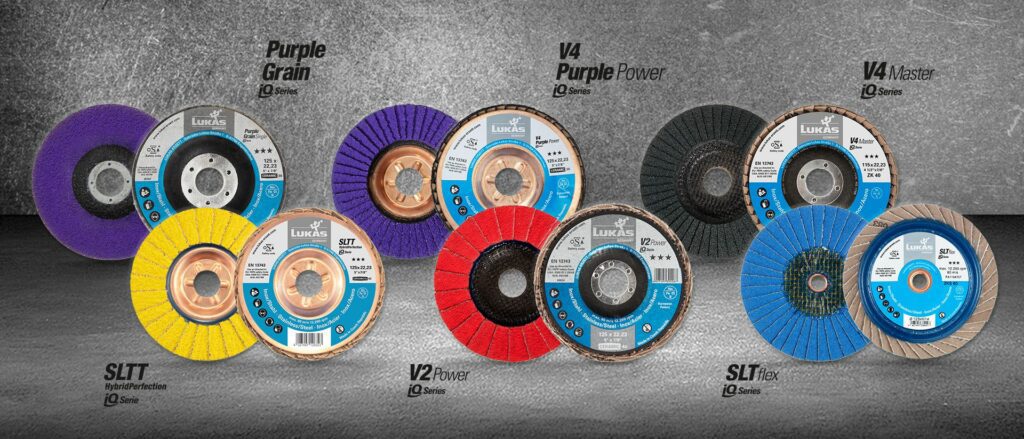 Outstanding performance by exploiting every potential
The expertise of our development department consistently leads to new tools for exceptional performance. Among the most abrasive tools on the market are our iQ series grinding discs. These include flap discs with a multi-layer design for a long tool life even when used with powerful performance. Other discs achieve even more extreme removal rates with their patented overlapping flap shape and arrangement. With such developments, LUKAS has made a name for itself wherever tools with unusual capabilities are required.
LUKAS has likewise developed tools that are at the forefront of progress in their market segment. One example: For the production of wind turbine blades, the wind power industry requires grinding tools capable of grinding off fibre-reinforced plastics in a highly productive manner. For this purpose, we developed the SHF semi-flexible grinding disc with structured silicon carbide. With its rapid removal of hard laminate structures, this grinding disc is one of the standard tools used today for the construction of wind turbines. We also developed special tools for the aircraft industry, foundries and other industry sectors.
Rationalisation with special tools from LUKAS
You, too, can benefit from our experience in developing tailor-made special tools. Be it for grinding, milling, cleaning or polishing, we will find a solution that fits perfectly into your processes and solves problems there. These can be special sizes, special abrasives, product tests, or even completely new tools. As your partner, we are dedicated to the success of your products and processes. Get in touch with us.